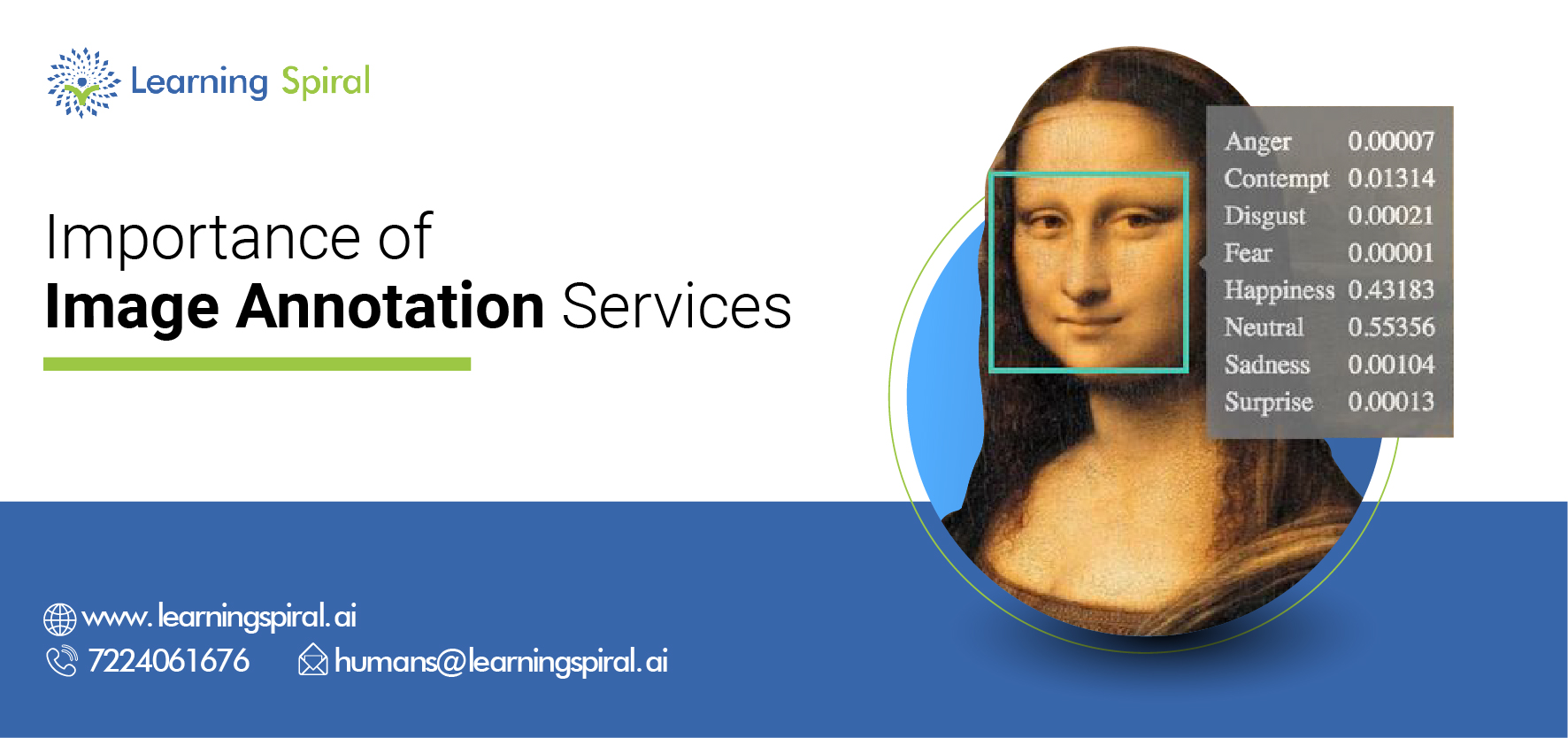 February 28, 2022

Manish Mohta

0
Image Annotation for Machine Learning
Image annotation services annotate all types and sizes of images with precise capturing tools making the images recognizable for machines. We are using the best tools and data annotation techniques to annotate the images from different fields providing the training data solution for machine learning & AI  in various subfields. Data annotation especially Image Annotation is an important step to train the models. As much as annotated data is used to train the machine learning model, the accuracy will be higher in any AI project.
Image annotation services & various tagging services are becoming a very part of companies across various growing industries. Once all the images are annotated & labeled accurately they are feed into the algorithms to train the model and get accurate results.
Under Data Annotation, The role of image annotation services is becoming very important in the context of ML algorithms that allow for efficient access and retrieval of images from large datasets. Once the images are annotated & well-labeled accurately they are fed into the algorithms to train the model and get accurate results from various AI-based projects
Image Annotation is very important in creating various CV ( computer vision) models. Machine learning is basically about the science of providing computers with the ability to learn and understand and it is being used in our lives through various significant applications such as e-commerce, self-driving cars also disease diagnosis.
Medical image data annotation services help in detecting and interpreting the changes in medical images It helps the radiologist to make better & accurate decisions. Thus, it helps to save time and improve quality also, helps to achieve the aim with minimal errors and discrepancies and so improves the accuracy. Image annotation services play a very important role. Data Annotation including image annotation services helps to increase the visibility of various new products or brands. It helps both buyers and sellers in many ways.  Customers or buyers can uncover new and latest brands and trends.


Industries That Require Qualitative Image Annotation Services at Scale
E-Commerce
Entertainment
Medical
Self-driving cars
Banking
Cybersecurity
Agriculture
Manufacturing
Financial
Transportation & Logistics
ABOUT OUR SERVICES
Our professional & well-trained team can help meet requirements for Bounding Box Annotation, Polygon Annotation, Geospatial imaging, Keypoint & Skeletal Annotation, Semantic segmentation, We are here to Scale your machine learning program quickly and improve user experiences through our data annotation including Image annotation and data labeling services.
Connect with us for Data annotation & data Labeling services and high-quality, safe, secure Fast project delivery. Learning spiral, a Data Annotation Company ensures In-house, Professional, Dedicated & trained teams. Learning Spiral: Provides Qualitative Data Annotation including Image Annotation and Data Labeling services
Thanks For Reading & Stay Tuned with us!