November 19, 2020

Manish Mohta

34
CHATBOTS
Chatbots recognize words and phrases in order to deliver helpful information to customers who have some common questions. Sometimes, chatbots are so accurate that it seems as if you're talking to a real person. For many industries like education, medical transport, and e-commerce or the enterprise, retaining or understanding their users requires efficient and effective customer support. There are many companies that make use of AI & machine learning to improve the customer support experience. One of the most important processes is Data annotation assigned to Data labeling companies to get accurate results and achieve goals and through AI and machine learning build a custom system that measures the sentiment of customer support inquiries and moves negative responses to the top of the support cue. The result is a response to urgent messages four times faster. Chatbots are well trained with the help of qualitative Data annotation and Data Labeling services provided by Data Labeling companies. Presently, conversational "bots" are now trained to support requests without help from a human operator through machine-powered natural language processing. Chatbots boost customer satisfaction by responding faster to customers.
How Chatbots Help the Entertainment Sector?
The entertainment industry is huge and consists of many categories like music, film, gaming, news, streaming service, media, etc. Chatbots help the media and entertainment sector to broadcast their content with a huge user base globally. Chatbots also help to send personalized content and enrich the user experience by providing choices according to their requirements. Chatbots are also used to communicate with their audience at scale. Chatbots help the entertainment sector to engage their audience with Personalized experience. The best example is a Streaming service that offers online streaming of a library of films and television programs highly dependent upon AI to provide recommendations by your past viewing history to deliver suggestions for what you might want to watch (including genres).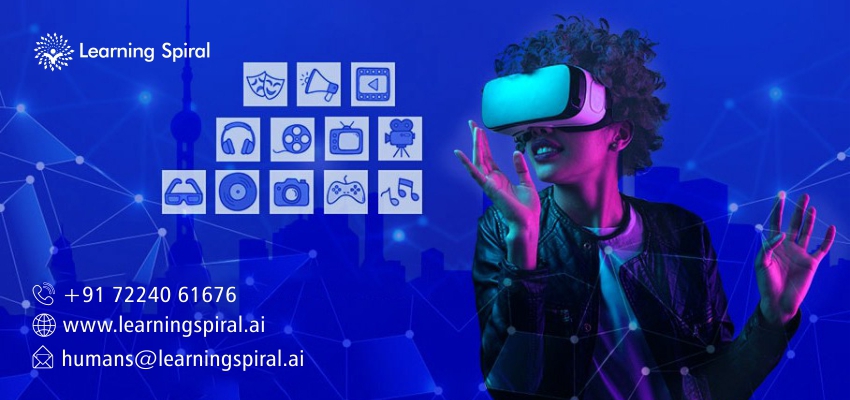 Benefits of Chatbots in the Entertainment Sector
Customer Experience
Audience Engagement
24/7 customer services
Send Personalized Notifications
Saves Time and increase efficiency
Thus, with the above benefits, we can understand the importance of Chatbots in the Entertainment sector. Chatbots help the sector to improve the experience, and attract new clients, and helps to increase profits to the Entertainment sector. Chatbots are being developed for the Entertainment sector to make the system work in an efficient and effective manner and that too 24*7. Chatbots with help of data annotation and data labeling services provided by Data Labeling companies help the entertainment sector to grow and increase efficiency.
ABOUT THE ORGANIZATION
Learning Spiral, a data labeling company that has a workforce with a diverse set of skills to provide training data sets that would provide better results. We have a rich history of 10+ years of handling sensitive data on a large scale. Our affordable Data annotation services provided by trained in-house dedicated professionals ensure high quality labeled data to meet your needs. We are here to Empower your algorithm and bridge the gap between machines and humans with our reliable data labeling and data annotation services.
Pick the best Data labeling company for your company to get better results.
Thanks for reading & Stay Tuned!