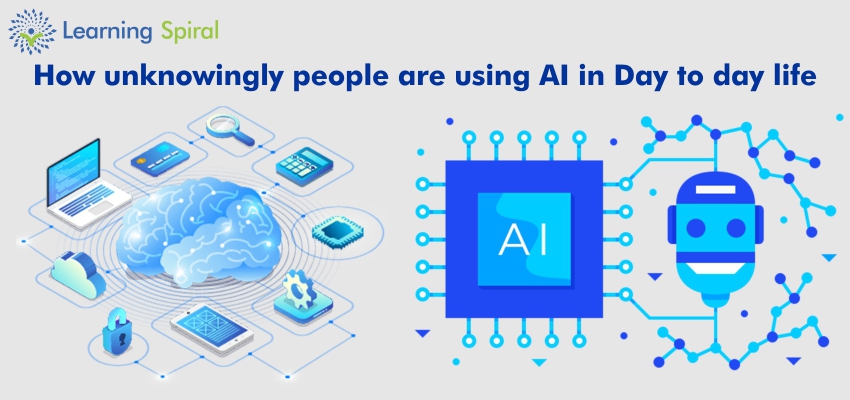 April 22, 2020

Manish Mohta

2
Artificial Intelligence enhances the speed, precision, and effectiveness of human efforts. Artificial Intelligence (AI) is bringing drastic changes in technical fields, where it can be implemented to automate the system for more efficiency and performance while we are quite unaware of how it's changing our daily life and making it easier and simpler than before. AI is now being widely used in multiple fields from mobile phones including social media to preventing threats and responding to active attacks in real-time. Diagnosing the diseases fast and providing a high-performance and accurate system work with efficiency to many E-commerce activities AI is Used is some major fields like Automotive (Self-driving Cars), Virtual Assistant or Chatbots, Agriculture, Retail and E-Commerce, CyberSecurity Manufacturing and Production, Healthcare and Medical Imaging Analysis and many more.
Know-How unknowingly people are using AI in Day to day life
By using Google search engine
Every day, Every person is highly dependent upon searching Google for an answer or a product and it's a habit that's very hard to live without. In modern times Search engines couldn't scan the entire internet and deliver what you want without the assistance of artificial intelligence-enabled by AI, are based on your search history and are personalized to you with the goal of getting items in front of you that the algorithms believe you will value. Artificial Intelligence helps search engines match their needs. AI is getting smarter, efficient and effective and has made us very dependable.
By using FACE ID advanced technology
Presently, when your device gets unlocked using biometrics such as with face ID, it's using artificial intelligence to enable that functionality. It lights up your face and places 30,000 invisible infrared dots on it and captures an image. It then uses machine learning algorithms to compare the scan of your face with what it has stored about your face to determine if the person trying to unlock the phone is you or not. So this significant function FACE ID advanced technology in our smartphones is totally dependent upon AI and so we are.
By using voice assistants like Siri and Alexa
In today's time, the assistants we are provided by Siri and Alexa are very helpful in many numbers of ways getting us reminders about things to inquiring about the weather
These tools from Siri and Alexa use natural language processing and generators driven by AI to return answers to you. Through AI solutions many voice assistants like Google's Alexa, Apple's Siri are some best assistants. Voice assistants are the new tools allowing users to communicate.
In modern times technology is growing and no doubt making the user experience more engaging and excellent. The voice assistant is here for smooth user experience in real-time and so AI is making our daily life so efficient.
By using personalized recommendations
AI can effectively and efficiently predict customer behavior and their needs that offers relevant and helpful recommendations. It tends to gather all the data that has been searched and looked at by a particular customer. The algorithms then take the information, history, content data and other information to offer the necessary reference to the same customer based on their search recommendations. By giving free recommendations Searches related products are tracked and accordingly, suggestion approaches the users. Personalized recommendation feels to offer a personal touch to the users that enhance the user experience that simultaneously provides satisfaction. The retailer's AI algorithms learned what you like and what other people who are like you purchased to deliver to your feed recommendations for what you might like in your carts.
By using Netflix to Find Your Next Binge
Streaming service which offers online streaming of a library of films and television programs is highly dependent upon AI to provide recommendations by your past viewing history to deliver suggestions for what you might want to watch (including genres). Its tool gets as specific as what time of day you were watching and what you traditionally like during that timeframe. In fact, 80% of what we're watching is driven by Netflix's recommendations. And so it will be hard to imagine any of our days without the help of AI.
Artificial Intelligence (AI) and Machine Learning (ML) dictate a new approach to business – one that requires plenty of data and then where Data annotation comes to picture and is an indispensable stage of data preprocessing in supervised learning. Artificial It's a crucial task for machine learning because data scientists need to use clean, annotated data to train machine learning models. Data annotation is done to create the training data sets for AI and ML.
Ability to deliver data annotation and data labeling at scale
Learning spiral has a workforce with a diverse set of skills and the ability to deliver data annotation and data labeling at scale. We have a rich history of 15+ years of handling sensitive data on a large scale. Your Data our responsibility. Pick the best Data Annotation company for computer vision and NLP services while saving money and time!