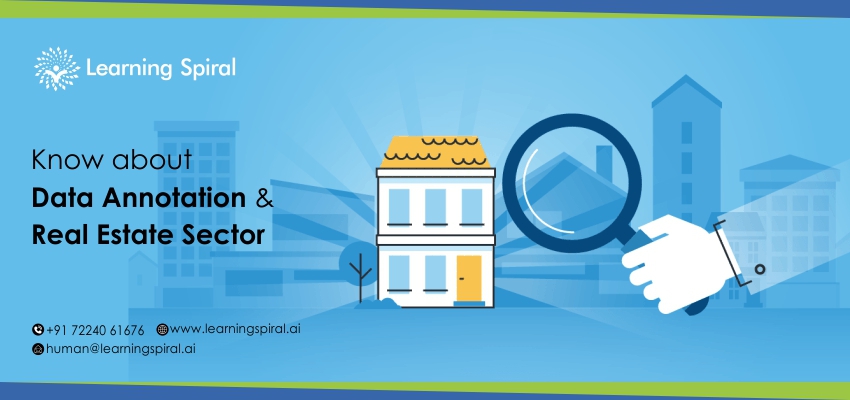 April 20, 2021

Manish Mohta

0
DATA ANNOTATION & LABELING
Data Labeling, an important step of data preprocessing in supervised learning. Machine Learning (ML) dictates a new approach to business – one that requires plenty of data. It's a crucial task for machine learning because data scientists need to use clean, annotated data to train machine learning models. Data labeling is important in machine learning in many use cases, as it makes the work of the machine learning program much easier and accurate.
Data annotation is the process of labeling data to make it usable for machine learning and it's utmost necessary to have accurate sets for Machine Learning.
Some Major Industries that require Data Annotation services at scale are Automobile, Manufacturing, E-Commerce, Retail, Healthcare, Financial, Agriculture, Transportation & Logistics, Cybersecurity, Medical Research & Development, Education also REAL ESTATE SECTOR. So, Without any doubt, the data labeling services and Data Annotation industry is spreading Globally. Data Labeling services are provided by professional data annotators working in Data Labeling Companies.
SCOPE OF DATA LABELING SERVICES ML & AI IN REAL ESTATE SECTOR
Data Labeling & AI helps to Improve the Home Search for People looking for a property
Through online listings, homebuyers search for homes by location, price, square footage & also no. of bedrooms. But even narrowing the property search to these parameters ad filters can still leave house hunters with hundreds of homes or buildings to consider, or worse, filter out otherwise suitable properties that don't meet the search criteria.
AI & Machine learning with help of Data Annotation and Data Labeling has made this process easier by analyzing a person's search patterns and creating a more accurate picture of what they really want and what are their specifications. Some Apps can combine search data from a potential home buyer with that of similar buyers to produce a list of properties prospects actively searched while connecting them with other properties that align closely to their needs. So, the process becomes easy, fast and economical.
Data Labeling & AI helps to know potential clients for agents
Data Labeling & AI offers a powerful tool to the real estate sector. It helps agents to find and contact ideal clients. AI & Machine learning has enabled programs that help to determine a high percentage of clients who are immediately looking for an agent or broker and that helps to generate accurate leads for agents and resolve the problem for both parties.
Data Labeling & AI helps to Refine the Transaction Process
Machine learning with Data annotation and Data Labeling services by Data Labeling companies are used to refine the real estate transaction process. The major goal is to help agents & teams provide the most smooth experience for their potential clients. It helps in many ways like faster closing times, smarter mobile apps, cost-cutting. It simplifies tasks related to buying and selling for both teams and brokers
Data Labeling services & AI helps to get Smarter Real Estate Management
AI and Data Labeling services help in the Real estate sector through Real estate management also. It helps to get smarter real estate management. You want to know how so basically, AI software made with the help of data labeling services can track rental and property listings, requests for maintenance, tenant applications, and much important information. These major conclusions of the tracking can help to identify the most common issues like maintenance issues, tenant characteristics and many preferences, price trends in certain areas, and seasonal availability.
Thus, Under the Real Estate Sector AI, Data Annotation & Data Labeling services helps to Predict Property Value and also help to gain many important information.
So when AI is used by anyone to predict sale price and rental info that will provide them with a competitive edge. Thus, One of the most significant applications of AI and property management software in real estate is investment-focused. So the prediction is a very important factor in the Real Estate sector.
Learning Spiral, Data Annotation & Data Labeling company offers qualitative Data Labeling at scale for the Real Estate sector. Our data annotators offer datasets that train algorithms to get accurate results for every industry.