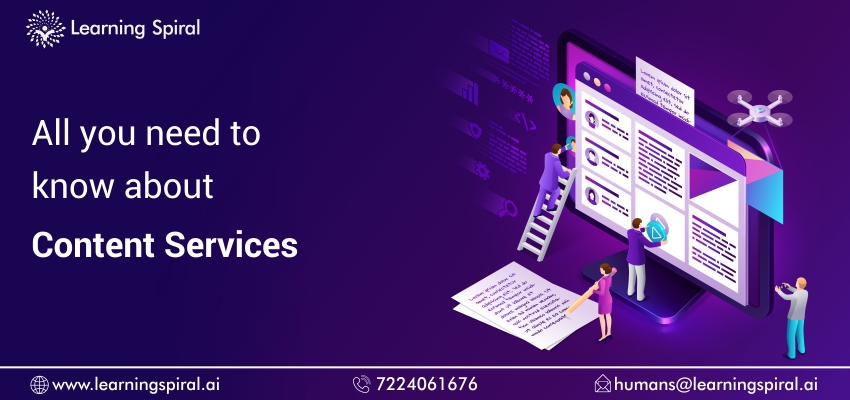 July 3, 2020

Manish Mohta

0
Content services provide automated processes that can save time and connect employees with the information they need to work most efficiently. Many business processes today involve information that comes from multiple sources, in diverse formats. Any business wanting to minimize human intervention and maximize automation needs to find the tools to transform the semi-structured and unstructured content into standardized data that bots can use. Our Qualitative Content services consist of interoperability, reliability, and accountability. Learning Spiral provides a scalable way to enrich content and gain valuable insights by leveraging intelligent Content services.
Our Content Services
A) Moderation:
User-Generated Content (UGC) moderation is a versatile entity that includes photos, videos, blog posts, and even independent articles.
The main highlighted points included are moderation of Images, Videos, Comments
Under moderation, we offer the services to monitor, control, and filter everything that is posted on your website, social media pages with the purpose to protect the brand.
B) Categorization:
We work Precisely to categorize, label your content with efficiency to provide qualitative end results through Entity Labeling, Entity Categorization, and Item taxonomy. Categorization is important in learning, prediction, inference, decision making, language, and many forms of organisms' interaction with their environments.
Entity Labeling
Entity Categorization
Item taxonomy
C) Content Transformation
It is the process of making existing content more versatile and reusable. Learning Spiral transforms content across platforms, devices, & channels so that it resonates locally & delivers superior customer experience.e ensure that your content is relevant, helpful at every step through
Attribute Mining
Search relevance
Product taxonomy
Speech Recognition
Classification for unstructured data
D) Data Digitization
Data Digitization is the process where manual records such as manuscripts, prescriptions are converted into digital forms for easy & customized access to information. We will help you digitize your documents and make it easier for you to search, access, retrieve and distribute the required information and cover the following activities
User generation Content (UGC) moderation
Text Transcription from PDF
Data validation
Entity labeling
WHY CHOOSE US OUR TEAM FOR QUALITATIVE CONTENT SERVICES
We have a project manager in place to ensure the quality of deliverables is always above 93% accuracy. We use multiple quality control methods to match or exceed quality standards to meet our clients' expectations.
We maintain the high standards of data security with privacy while working with our clients to ensure their confidentiality. We have a safe, secure, reliable, and mobile free work environment.
In-house, Professional, Dedicated & trained teams. All of our annotators are well trained For every project, to provide High-quality, and accurate with less turnaround time. We select a dedicated customized team because we know it is the best way to assure quality. In addition to that, we have professional & experienced project managers at the place.
Work to provide Scalability & Flexibility
Ability to deliver data annotation and data labeling at scale. Working with hundreds of workforce to annotate as per the demand and providing a completely scalable solution to meet different clients' needs. Learning Spiral enables businesses and organizations to get work done easily and quickly when they need it.
ADVANTAGES OF CONTENT SERVICES
Reduced costs and improved data quality.
Faster business processes.
Fewer compliance risks.
Ease in Automation.
Faster Results
Accurate Results of Data Annotation & Labeling
It helps in achieving goals faster.
It provides efficiency and effectiveness to further processes.
One-stop Content services + Data Labeling and Annotation Service Provider. Learning Spiral is here to Empower your algorithm with our human data labeling. Our ISO-certified facilities reduce ramp time and increase quality. Empower your algorithm with our human data labeling.
Explore Learning Spiral's Intelligent Content Services.